The light earth technique was gradually developed since the 1980's in Europe (primarily Germany) to meet a growing demand for
better insulation
. It's roots are in the centuries old
tradition of half-timber construction
. In light earth building, loam is mixed with woodchips, pumice or other air pocket forming aggregates to create light, insulating walls within a
structural wooden frame
. Compared to other earthbuilding methods LEM is
far less labour intensive, faster
and a lot
more forgiving
since it isn't structural. This makes it very
suitable for owner-builders
. At a density between 350 and 1200 kg/cubic meter, LEM walls are
much lighter than mudbrick or rammed earth walls
(2000-2200 kg/cubic meter). As a result the
insulation
(r-value) is up to ten times higher
for the same wall thickness
and New Zealand
building code requirements can easily be met
.
External light earth walls
are best complemented with the higher density of rammed earth, used as thermal mass to store heat in interior walls and floors, but also built into a load-supporting wooden frame.
This saves reliance on non-compatible reinforcing materials like steel and cement
, that consume a lot of energy in production and transport, and ensures
superior earthquake performance and full breathability
.
The wooden frame also provides support for a protective roof, a key factor in making the
cement-free earth building process viable in New Zealand weather conditions
.
Our homes combine refined contemporary architecture with traditional materials and craftsmanship of the highest quality
. We have set new standards in environmentally friendly building in NZ, and we are sure you will feel and appreciate the difference.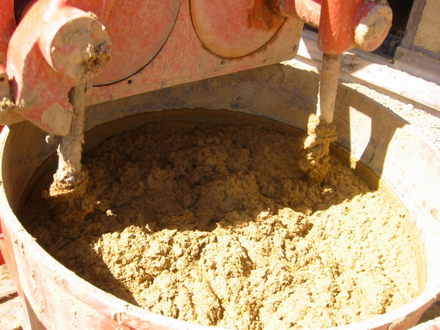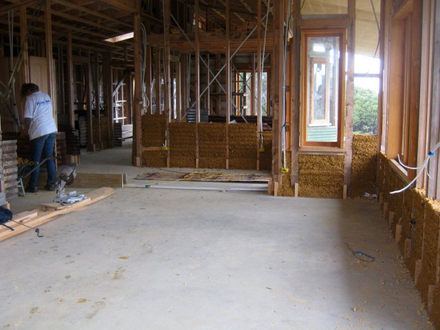 light earth method - the process
nzeb design ltd.
usually works with a
light earth infill consisting of pumice and/or wood chips and selected loams
.
This
material combinations was very successfully used on many of our projects
and produced appealing, stable walls with
excellent thermal properties
.
The quarried
race pumice
has an aggregate size varying from 8 to 55mm.
The
wood chips are bark free, untreated, shredded waste wood
and /or macrocarpa wood shavings and sawdust.
Suitable loam can often be found on site
or close proximity. A
clay content of about 30% is ideal
for the light earth method. The clay merely acts as an
adhesive to hold the airpocket-forming aggregates together.
The loam is soaked and agitated before mixing it at a ratio of
approx. 20% loam to 80% pumice or wood chips
in a mixer. The mix is then poured into a
temporary shuttering system
between the upright members of the frame (posts or studs). The mix is lightly tempered by hand and lateral support is provided by horizontal laths at regular intervals. When dry the walls will have a
density of approx. 450-850 kg/cubicmetre
, which together with the internal and external plasters will produce an
r-value of approx. 1.2 sqm*K/W for the 200mm wall thickness
. Temperature monitoring of our project in Mangawhai over the 2004 winter period has confirmed the good thermal properties. The inside room temperature of the unheated and uninhabited building never dropped below 14 degrees celsius.
sign up for our newsletter
keep up to date with our latest projects and workshops